All CHF trainers hold college degrees in health-related disciplines, with certifications from the American College of Sports Medicine, National Academy of Sports Medicine and National Strength and Conditioning Association. CHF also offers Medical Exercise Specialists—the only fitness center in the beach cities to do so—who are trained and educated to work with member's doctors or physical therapists to ensure the highest quality, effective exercise program.
*Note: To read trainer bio, click on trainer image.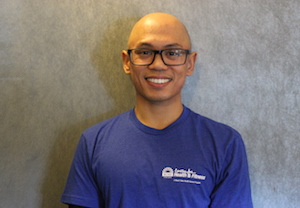 Chris Bentajado
Chris is a movement enthusiast that is passionate about helping individuals move PUROPSEFUL, INTENTIONAL, and PAIN FREE. His main goal it to educate clients and to help enhance their awareness to the infinite potential that they have within them, as well as empower them with tools to fully thrive in life. He likes to coach clients on being persistent, helping them to develop fortitude and confidence, as well as providing them with motivation and accountability. His hope is to have his clients realize that they are much stronger than they ever knew they could be, and that they are capable of creating what they want in their life if they are willing to work for it and never give up.
On his down time, he enjoys short walks to the fridge and appropriately long naps. But on the flip side, he enjoys hiking, working out, dancing like a complete fool, doing yoga, traveling, finding new great mouthwatering recipes to cook up in the kitchen, and making sure each day is filled with laughter. Chris is keen on creating meaningful connections with his clients and wants the successes they experience with their health and wellbeing to influence other aspects of their lives.
FITNESS PHILOSOPHY
Exercise is medicine, but exercise and fitness are so much more than hard work and sweat. It is a catalyst for positive change, and it affects all other facets of your life.
SPECIALIZATION
Movement training, functional training, resistance training, athletic-specific training, balance and mobility training, medical exercise education and exercise intervention for individuals with chronic health considerations.
CLASSES TAUGHT
Small Group Personal Training
EDUCATION/CERTIFICATIONS
Chris earned his Bachelor's of Science in Kinesiology at California State University, Long Beach and is certified as a Medical Exercise Specialist (MES) through the American Council on Exercise (ACE), as well as a certified personal trainer through the American College of Sports Medicine (ACSM).
Derick Malit
Derick's training approach focuses on the specific goals of his clients. With his extensive knowledge of functional training, weight loss, sports-specific training, and plyometric training, he can accommodate a diverse clientele. Clients who train with Derick will receive the motivation and knowledge they need to incorporate exercise into their lifestyle so it's not just a temporary hobby that can be neglected. Derick's upbeat personality and sense of humor are sure to encourage his clients to stick to and enjoy their fitness routines as part of their overall wellness journey. Derick is a key contributor to our Employee Wellness Program here at BCHD, and regularly energizes us with invigorating circuit training classes.
FITNESS PHILOSOPHY
Combining exercise with a healthy diet and lots of laughter can vastly improve your overall quality of life. The key is just to believe in yourself and be consistent because YOU are the only one who can do it for yourself.
PERSONAL INFORMATION/HOBBIES
Derick is an athlete at heart, and likes to push himself to the max. Outside of fitness, Derick really enjoys being with his family, making people laugh, and trying all types of foods, so there's never a dull moment!
CLASSES TAUGHT
Circuit Training (BCHD Employee Wellness Program)
SPECIALIZATION
Sports-specific/agility training, functional/balance training, tone/weight loss
EDUCATION/CERTIFICATIONS
B.S. in Kinesiology
NASM-CPT
Aidan Acuff
Aidan Acuff says tongue-in-cheek that his active lifestyle was sparked by frequent kicking and thrashing in his mother's womb. Never one to take himself too seriously, he enjoys a good laugh as much as a good workout, and shares his infectious attitude with clients.
Aidan's resume includes 14 years of natural bodybuilding (including a lightweight state championship), a Master's Degree in Exercise Science and he is currently pursuing a Ph.D. in Health Psychology. He enjoys the positive daily synergy that involves helping clients realize self-improvement and health. And because of his passion for fitness, Aidan feels like he's never worked a day in his life.
FITNESS PHILOSOPHY
Injured or elite, there is no physical state from which a person cannot improve.
PERSONAL INFORMATION/HOBBIES
Trivia, Writing, Sports, Fitness
CLASSES TAUGHT
Small Group Training
SPECIALIZATION
Working with older adults
Weight management
Muscle building
EDUCATION/CERTIFICATIONS
M.S. Exercise Science
NASM Performance Enhancement Specialist
ISSA Personal Trainer
TRX certified
Tanya Rutter
As a Personal Trainer, Tanya draws upon her extensive experience in functional training and Mat Pilates to create fitness programs tailored to individual goals and lifestyle. With her Fitness Assistant duties, Tanya helps members optimize their fitness results by encouraging proper form and technique; showing members new exercises; and orientating members on the use of new equipment.
FITNESS PHILOSOPHY
Tanya believes that even if a member has never been active, or is returning to exercise, it's never too late to reap the many health benefits of regular exercise.
PERSONAL INFORMATION/HOBBIES
When she isn't working with members at CHF, she enjoys dance, playing classical and flamenco guitar, as well as supporting human and animal rights.
CLASSES TAUGHT
Mat Pilates and Small Group Training
SPECIALIZATION
With more than 12 years of professional experience training and teaching fitness, Tanya's specialties include functional and core training, Mat Pilates and improving balance, flexibility and agility to help fight disease and injury.
EDUCATION/CERTIFICATIONS
B.A., ACSM-Certified Personal Trainer, NASM-Certified Personal Trainer, Stott Pilates Mat Certification, TRX, Certificate in Fitness Instruction, UCLA Extension
Brian Fuentes
Brian was born and raised in Southern California. He connected with fitness early in life through school sports, including basketball and volleyball. It wasn't until college that Brian started visiting the gym to maintain his fitness. He was immediately intrigued with the variety of different exercise classes, which sparked his passion for training and rehabilitating clients and athletes.
FITNESS PHILOSOPHY
"Kaizen" is the Japanese philosophy for continual development and improvement. There is always something that we can improve in our lives that goes beyond our physical health. I believe in starting with improving our mental strength and how we view challenges first. Then when we charge toward our goals, we will be better prepared for any obstacle that we encounter.
PERSONAL INFORMATION/HOBBIES
I love being active through sports and other recreational activities. Volleyball, basketball, rock climbing, and hiking are some of my favorites.
CLASSES TAUGHT
Functional Strength Training and Small group training
SPECIALIZATION
Post/Pre rehabilitation exercises/therapy, and injury prevention.
EDUCATION/CERTIFICATIONS
BS in Kinesiology (emphasis in Athletic Training), Nasm CPT certified, ACE Medical Exercise Specialist certified.
Jon Michaels
Jon's been active his whole life. Seeing how being sedentary affected his parents and sister, he went gonzo in the other direction. Tennis, racquetball, triathlon, running and cycling, Jon's been active in all. He's been training triathletes and athletes since 2007, when he realized exercise is the key to better health, and better health is the key to a higher quality of life.
FITNESS PHILOSOPHY
NA
PERSONAL INFORMATION/HOBBIES
One of Jon's greatest loves is to ride a bike up a hill and fly down the other side, his long hair flowing out behind him in the breeze.
CLASSES TAUGHT
Indoor Cycling, Circuit Training, Bootcamp
SPECIALIZATION
Mobility and Agility, Functional Exercise, Strength
EDUCATION/CERTIFICATIONS
NA