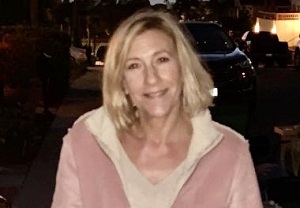 Deborah is a veteran instructor with 25 years of experience training clients.  Her philosophy: "Get your butt to the gym whenever you can, and better late than never!"  According to Deborah, people set themselves up for success by finding workouts they enjoy and doing them with a positive group of friends. 
Ask Deborah what students can expect from her sessions, and she'll tell you, "A fast-paced, interactive workout that benefits the body and mind.  It's a good time!"
When she isn't instructing at CHF, Deborah's busy closing real estate deals in the South Bay.
Classes taught: 20/20/20, Aerobics, Easy Goes It, Step: Intermediate, Stretch Foam Roller
Email: teeldebs@yahoo.com
Education: B.S. in Education/Specialization Exercise Science, Univ. of N.E.; M.A.